''A beautifully understated study on harmony & melody...''
- Ian Smith (Last Night From Glasgow)
DEBUT ALBUM  
'THESE FOUR WALLS'
PRE-ORDER NOW!!
Released in November 2022 via Last Night From Glasgow, THESE FOUR WALLS is the debut album from In the Forest. 
''A beautifully understated study on harmony and melody, it harkens back to a simpler time when artists and musicians worked for the song, never flashy but always classy.''
The album will be released on the more environmentally conscious eco vinyl, each copy of the album will be subtly different and available in an array of colours, with printed lyric inner sleeve.
Pre-order to get the album a month earlier than the scheduled November release. Please CLICK HERE for more details.
16.09.22
single RELEASE:
fire & flame
'Fire & Flame', the new single by In the forest. Released digitally on 16th September 2022 via Last Night From Glasgow.
Written by In the forest
Produced by Rob Eveling, mastered by John Spence
Video directed by Lobke van Eijk (Lobster Productions) 
Drums: Steve 'Smiley' Barnard  
Additional guitars and vocals: Rob Eveling 
Taken from the forthcoming debut album 'THESE FOUR WALLS' - released 25th November 2022  via Last Night From Glasgow. 
Pre-order your vinyl copy HERE.
Bio
In the Forest are a four-piece indie-folk band from Bedfordshire (made up of two sisters and two couples).    
Having spent years making music in various bands, in 2017 the foursome escaped to Devon for a family holiday. Sat in their seaside cottage, one evening, they wrote their first song together and became In the Forest.  
With four experienced singer-songwriters each bringing different influences (from folk, roots, indie, reggae to pop), they soon had material ready to share with an audience.     
They spent 2018 performing live, continuing to write and experimenting in the studio at home - which led to their first single 'Tired' (released 2019).   
The band has worked hard on the live scene. A diverse array of performances (festivals, support slots, and radio sessions) led to a buzz within the local music scene, gaining music industry support, and a growing loyal fanbase.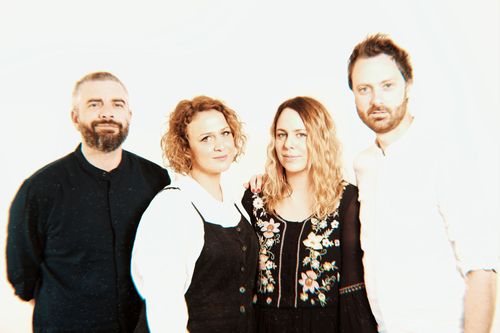 In the Forest completed their eponymous EP in lockdown (whilst half the band were expecting a baby). 
In May 2020, the band caught the attention of indie record label Last Night From Glasgow – who quickly signed the band to their stable of artists. 
In the Forest - EP was released in June 2020 and gathered press attention. Alongside reaching local news, the industry blog 'Fresh on the Net' made 'On the run' one of their 'fresh faves' that week, which was soon followed by plays on BBC Introducing - Scotland and an interview on BBC 3 Counties. 
Their debut release on the LNFG label was in July 2020 - a 7" edition of 'On the run'  (AA side with labelmates Nicol & Elliot's 'The Storm'). 2021 saw the band begin work recording their debut album - and the release of single 'Light that shines' in July of that year.
DEBUT ALBUM - THESE FOUR WALLS
In July 2022 the band announced that their debut album 'THESE FOUR WALLS' has been completed. This was recorded with producer Rob Eveling and will be released via Last Night From Glasgow in November 2022.
7" SINGLE RELEASE - 'ON THE RUN'